Last Updated on 10/18/2023
Work in the field of law is always considered prestigious. However, if earlier this profession was not so accessible, today, almost every second university in the country graduates legal specialists. Therefore, competition among lawyers is growing exponentially. 
For the last few years, a well-written resume for attorney began to play the most critical role in the selection of candidates for an interview. Best attorney resumes give high chances to get a decent workplace, even for an inexperienced specialist. Follow our tips and attorney resume example to create your perfect paper! 
Need a compelling attorney resume? Order attorney resume writing services.
Attorney Resume Template
The impeccable "servant of the law" self-presentation should be thought out to the smallest detail. Among all the possible attorney resume templates, we have chosen the most effective one: 
Contact information. Employers are interested only in valid phone numbers, email, and social network pages. 
Summary. Write up to 10-15 sentences about your experience and accomplishments in your attorney resume. The summary goal is to familiarize the recruiter with your career successes in a concise manner. So, it would help if you stuck to the case.
Work Experience. Follow the chronological sequence. Do not indicate more than 3-4 relevant segments of professional activity. Focus on job responsibilities in an

attorney resume template

. Pointing out your experience, pay more attention to the skills that a potential employer is looking for. 
Education. If you are an experienced attorney, do not indicate high school: mention higher specialized education and any relevant training courses. Employers always value regular self-development. Entry-level job seekers should note completed legal internships. 
Languages. If you speak any other languages, be sure to mention it. Indicate the level of your knowledge.
Top Skills. Do not make this list too long  in the

lawyer resume example

. Write job-specific skills that are relevant to your profile. If you are a "veteran", do not indicate soft skills. 
Honors-Awards. It is a critical section for qualified professionals. Any legal reward is a kind of objective evidence of your expertise and skills. 
Experienced attorney resume samples maybe 1-2 sheets longer than the entry-level. However, do not make this document too long. Any lawyer should have logical thinking skills and be able to prove it on paper. Therefore, your resume should have an impeccable structure, chronological consistency, and traditional style.
Attorney Resume Sample Tips
Use keywords. Your paper must pass the ATS test. ATS (applicant tracking system) is a program that recruiters use when selecting suitable resumes. It works on the principle of searching for specific keywords in the text.
What do you need to do? Review the vacancy you apply and indicate similar law keywords in your resume.
Add a photo. Attach a photo to your resume to build a more trusting relationship. It is especially relevant for legal advisers or attorneys acting in court, where a presentable appearance plays an important role.
Limit law vocabulary. Try to use less professional vocabulary. In other words, use an official but understandable language. Of course, this does not apply to law keywords. If highly specialized keywords are described in vacancies, you should mention them too.
Follow the template. Use the attorney resumes template (we described above) to follow the logical structure of the paper. Pay attention to one critical point:
if you are an experienced lawyer, you should write the "work experience" section right after "summary,"
but is you are an entry-level specialist, write "summary," "education," and only then "work experience."
A well-written attorney resume should not leave open questions for potential employers. Ambiguous facts or incorrectly formatted information can raise doubts about your professionalism.
As a lawyer, you know better than anyone that all information can be verified. Therefore, try to keep the paper content truthful and complete. Follow our attorney resumes sample as an example of a perfect document.
If in doubt how to create a perfect attorney resume, choose the one of the best attorney resume writing services in our list.
Attorney Resume Example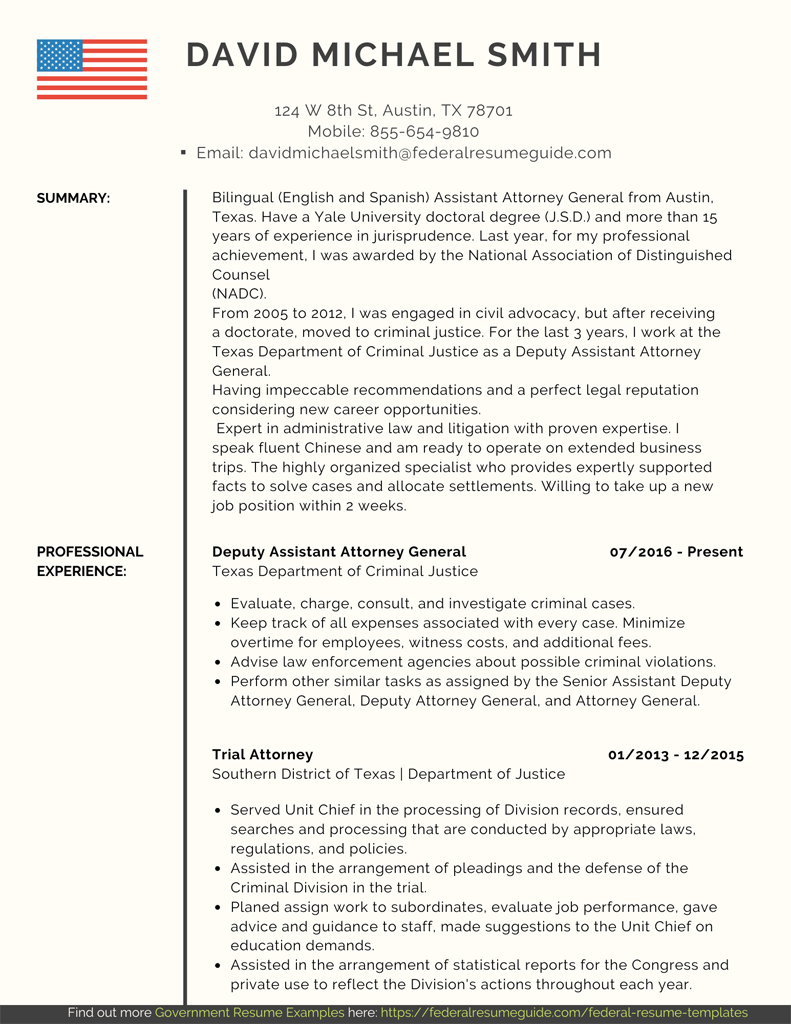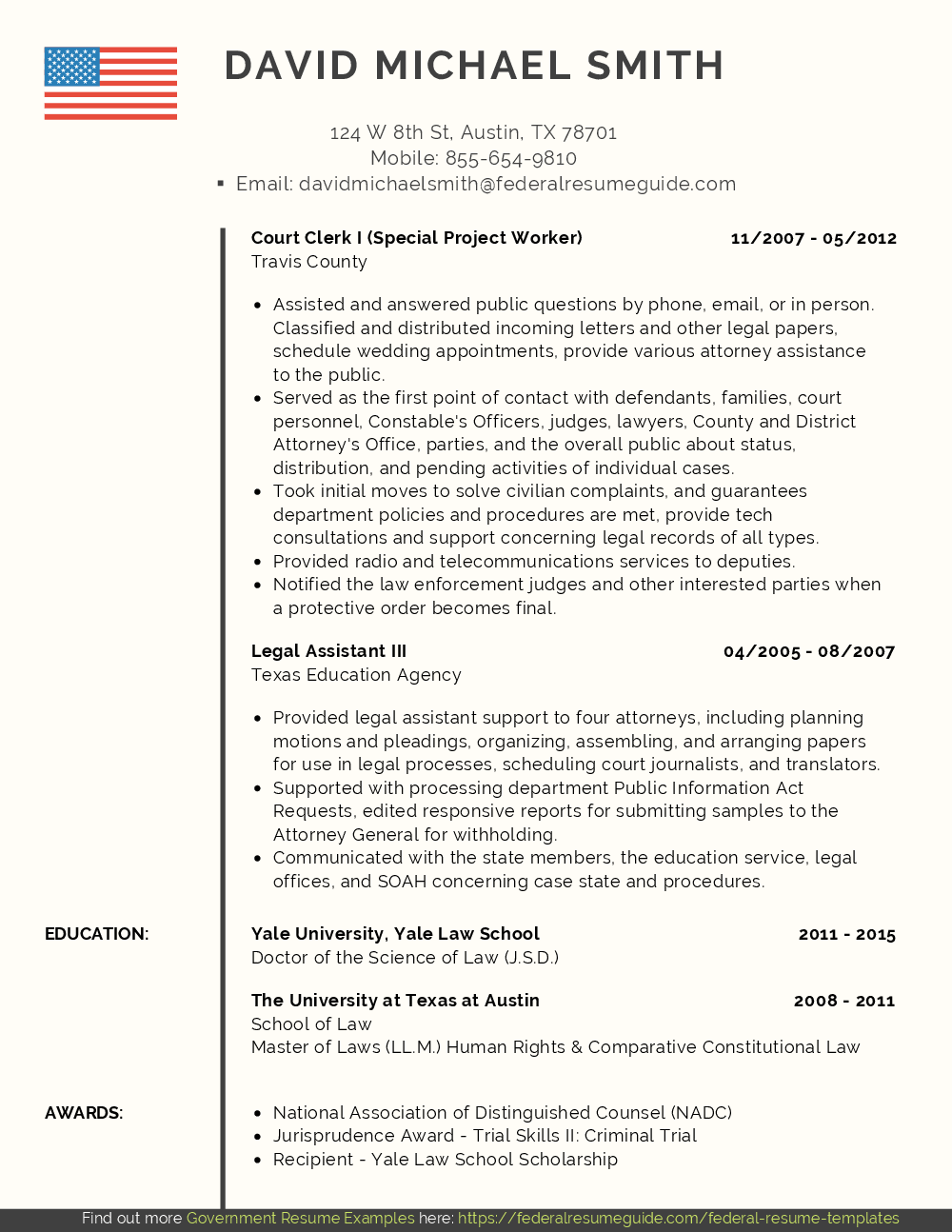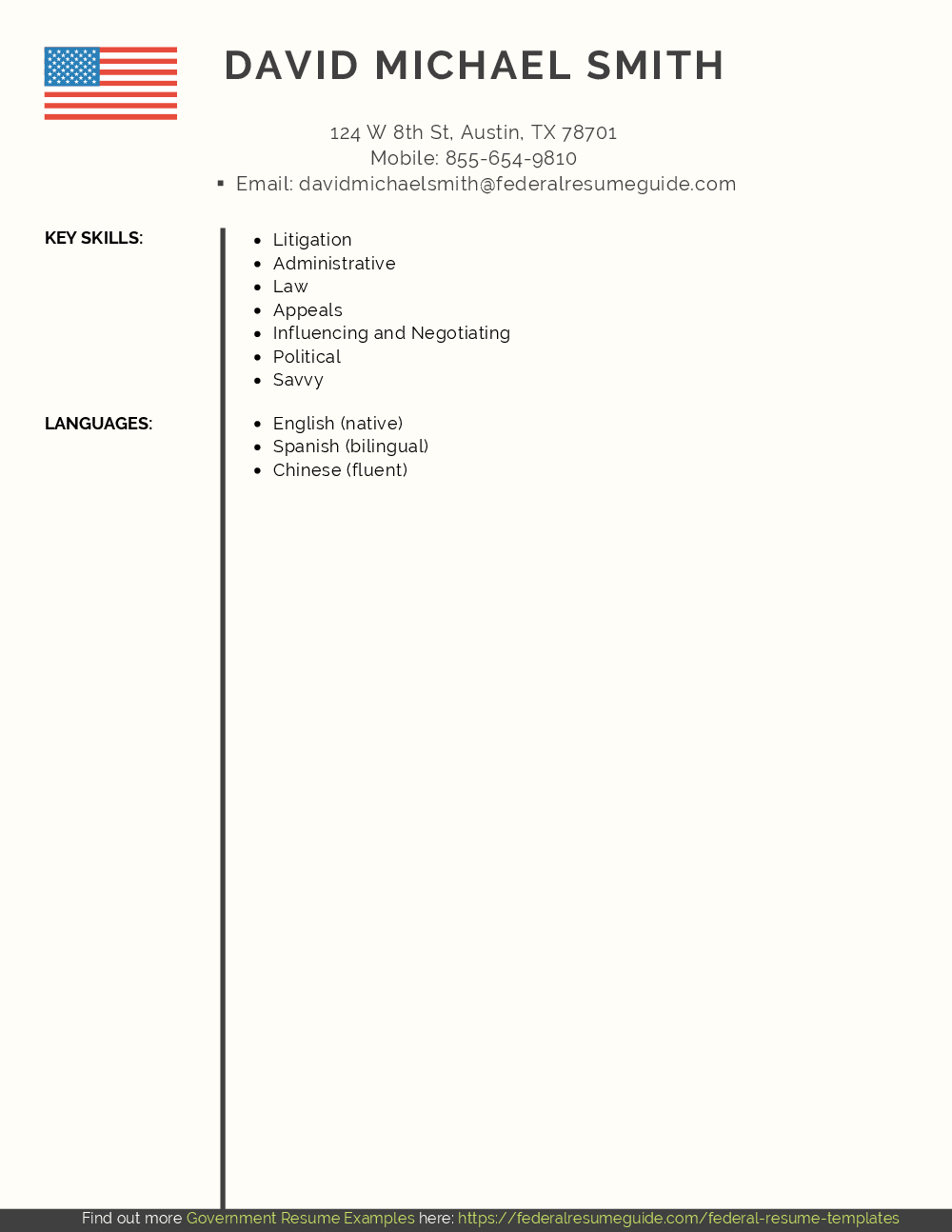 Check Out the Related Templates:

Richard Harter

Richard is a federal career expert and USAJOBS consultant providing professionals of all career levels – from C-suite to new graduates with targeted resumes, cover letters, and engaging LinkedIn Profiles.