Last Updated on 11/26/2020
An entry-level resume of any specialty is always complicated to write. The main challenge is to describe short work experience as advantageously as possible. Nowadays, recruiters are full of those who are seeking work. They are looking through hundreds of resumes per day, so it is almost impossible to surprise them. Anyway, you shouldn't surprise anyone with an entry level federal resume but win the attention.
Entry Level Federal Resume​
The federal sector recruitment team made just a perfect entry level government resume sample. Let's look at it closer and describe all sections it should include.
Contact Information.
Education. For the entry-level, it is not necessary to have a university degree but to have the ability to get it in the nearest time.
Volunteer experience. It is an essential point if somebody is applying for a good work position in the federal sector. Describe all the volunteer activities or community service, even when it does not concern your profile specialty.
Skills. The government may prioritize job seekers with specialized skill sets. But one of the biggest mistakes is when a candidate writes a vast list of random abilities. Before listing the professional and personal skills, make sure they are suitable for the position you are considering. If you are fluent in any other language, mention it.
Professional experience. This type of resume does not require full-time professional work experience. For example, it could be a university project, an internship at a government agency, or any temporary/part-time federal work. Look at the samples below to see the best variants to mention.
Summary. Definitely, it is the most crucial part of the resume, because recruiters usually check it out right after the work experience section. Write briefly, concisely, and with logical sequence. Do not make it longer than 2-3 short paragraphs.
Government resumes are way longer than a standard private sector document. It usually ranges from 6 to 8 sheets depending on the candidate's level. But entry-level paper can be performed with 2-3 well-written pages.
Even for the recent graduate individual, the whole federal job employment process will be about proving that you are the perfect candidate by demonstrating profile experience and motivation.
Essential Tips to Highlight Your Entry Level Federal Resume​
Review the job announcements for keywords and try to use them in your paper.
Include all your accomplishments, but always stay truthful.
Use key adjectives and verbs (managed, created, motivated, educated, etc.).
Concentrate on the mission of the company to translate your experiences.
Show confidence and readiness to train.
Follow our entry level federal resume samples for inspiration and as a format example. In the template, we've provided the applicant does not have a long career history but placed her skills and ambitions in the limelight. This technique makes a positive first impression on any recruiter.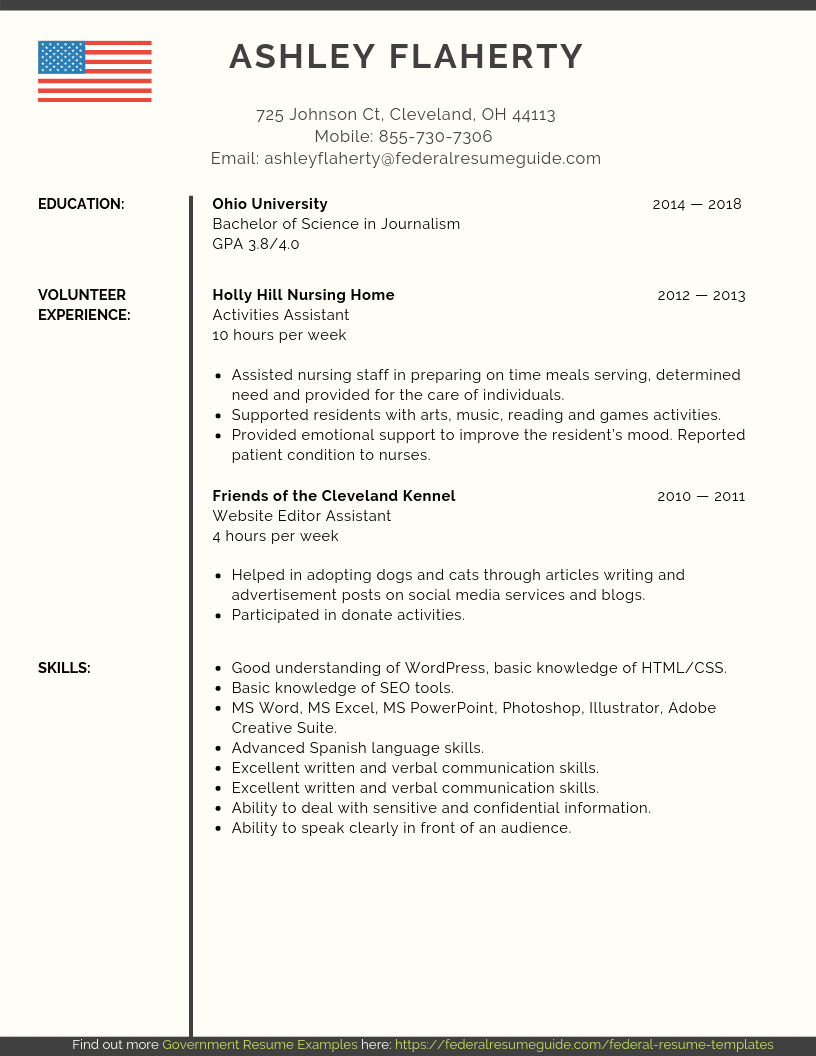 Check Out the Related Articles:

Jim Madson

Jim is an executive resume writer who stays abreast of the newest trends in the employment industry. He develops high-performance federal resumes to build a successful career.