Last Updated on 12/12/2019
Stability, a generous benefits package, great career prospects, and encouraging salaries are the attributes commonly associated with working for the federal government. The growth rates for federal government jobs make them a good choice for someone who takes their career path planning seriously. A variety of federal government entry level jobs gives the applicants an opportunity to start building their career in the governmental sector right after graduation. After all, the benefits offered by these positions are worthy of competing for them.
Government Jobs That Train You
When you have nothing but a diploma at your disposal, applying for the first federal jobs might seem to be an extremely difficult task with low chances of employment. However, thanks to the numerous training programs provided by the governmental sector employers, you should not be discouraged by your lack of work experience. When looking through announcements for entry-level federal government jobs, make sure you read all the information provided carefully. As a rule, the details about training programs involved in the job will be included in the announcement text.
The federal government offers a variety of programs and resources to put your best foot forward in a new field. You just need to know where to search for new prospects and possibilities. Here are a few places to start:
1. Job Corps – a job training program for adults ages 16-24.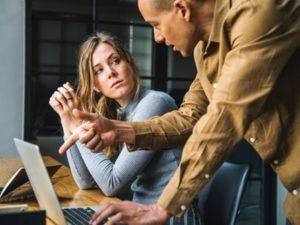 2. CareerOneStop – offers several training programs, colleges and universities.
3. United States Department of Labor has a Trade Adjustment Assistance for Workers (TAA) provides you with an opportunity to get support, skills and credentials to become reemployed, in case if you lost your job due to overseas competition or other circumstances.
4. Also, the Labor Department has a list of apprenticeship programs around the country with paid job training in such industries as healthcare, information technology, transportation, construction and so on.
5. The Pathways Program offers a federal internship for students, recent graduates and graduates with an advanced degree.
6. USAJOBS has thousands of job openings at federal companies nationwide. The site also provides a range of videos and articles on how to find and apply for federal jobs.
Our Advice: Even if you have chosen the exact job position you want to obtain, do some research on other vacancies within that industry and outside of it. This will help you to overview the market of federal jobs and consider a complete kit of opportunities available for you.
What Are the Easiest Entry Level Federal Jobs
Predictably, federal entry level jobs vary greatly in terms of competition, salary, education requirements, and responsibilities. Based on our observations, graduates seeking a first government job are mostly concerned about the complexity of both the selection process and the job itself. For this reason, we have made a list of the easiest entry level federal government jobs, which might help you make your future career choice.
Human Resources Specialist
Average salary: $38,850 per year
If recruiting, screening and rating job applicants sound appealing to you, a human resources specialist can become your first federal government job, and you do not need to have any previous experience to get employed. To apply for this federal government job, having a bachelor's degree will be sufficient. Your work as a novice human resource specialist will train you in a targeted manner for the full performance level job.
Civil Engineer
Average salary: $54,774 per year
Those who have recently graduated with a bachelor's degree in engineering and are looking for government jobs without experience are advised to turn their attention the civil engineer position announcements. The Bureau of Labor Statistics predicts faster than average job outlook for civil engineers in the nearest decade. Experience and training the employer will receive at this entry-level position will provide them with excellent opportunities for further promotion.

Natural Resources Specialist
Average salary: $49,464 per year
This position with a comparatively fast employment growth rate can become the first federal government job for those who have obtained a degree in natural resource management, agriculture, biological sciences, or chemistry. If you have any previous volunteer experience in this field, this will be taken into account to your advantage during the candidate selection process.
Secretary and Administrative Assistant
Average salary: $30,327 per year
This is one of the easiest government jobs in terms of requirements and responsibilities. However, it might not be the easiest to find since the job outlook for this position predicts a small decline in the next ten years. Normally, a bachelor's degree would be enough to apply for the job. What also makes this position desired by many recent graduates is that little time is needed to master all the skills involved in the job.
Nursing Assistant
Average salary: $26,590 per year
This must be the easiest position in our list of federal government job not requiring previous work experience. You might not even need to have a bachelor's degree to apply for this job. Although not required, any additional certification will give you more chances of getting hired. This occupation has faster than average job growth rate and provides employers with a decent benefits package.
Note: Having a significant internship experience is good, but it will not replace a full-time experience in Government Agency. If you have a lack of it, your chances to obtain an entry-level position are low, even if you've interned in your college. Be fully armed with needed experience.
Final Word
We have shown you how diverse and vast the field of entry-level federal jobs. So, don't consider that all government employees are congressmen or mayors. Several opportunities are waiting for people from all educational and professional backgrounds. But you should know, that for any federal jobs no experience, you will need a crystal clean background, sanity, and motivation to drive out the competitors. The point is simply to find out your outstanding skills and capabilities to use them to find the Perfect Government Position.
Next, get more career tips for internships and check out What You Should Include in a Federal Resume and is it necessary to Write a Federal Cover Letter. 
---
Check Out the Related Articles:
---

Daniella Henderson

Daniella knows all ins and outs of the federal hiring process. She is excellent at job hunting strategies, starting from federal resume writing to the final stage of interview conduction.