Last Updated on 12/13/2021
No matter how professional, efficient, and effective your firefighting protection competencies are.
You won't be able to get employed without showing off your reliability to an employer.
We'll do our best to explore what looks good on a firefighter resume, and provide the best firefighter resume examples with detailed descriptions for each element.
Creating a Perfect Firefighter Resume Objective
The objective or summary is an integral part of firefighter resumes.
A clear resume objective or solid summary both perform the same function of introduction to your resume.
The difference between firefighter resume objectives and summaries is the following:
Resume Objective showcases passion for a role.
Resume Summary highlights professionalism.
A resume objective works best for a beginner who applies for low-ranked entry roles such as a Firefighter, an Apprentice, or a job-seeker who is switching professions.
While applying for leadership positions, such as Assistant Chief, Battalion Chief, or Captain, it's better to opt for writing a summary in your resume.
How to Make a Strong Objective Statement
A perfect objective statement is a brief list telling about your capability of performing the core firefighter's duties.
Include a few relevant top skills and certifications in your firefighter resume objective as follows:
Skilled at providing on-site medical attention;
Experienced in rescuing individuals;
Knowledgeable about connecting hoses to hydrants;
Background in the mitigation of hazardous materials incidents;
Emergency medical technician certification;
Comprehensive physical ability test certification;
Valid driver's license;
Quick decision-making skills;
Great communication skills;
Able to work cooperatively with all types of people in a variety of situations;
Willing to learn continually.
Here are the tips to pique the recruiters interest and bring to the table everything they want:
Mention the name of the company that you want to work for to demonstrate you can be an asset to them.
Highlight your core strengths and qualifications.
Add some rough numbers to quantify your skills and accomplishments.
Use action words to showcase your achievements.
Things to Avoid in the Objective Statement
There are a few mistakes that are common for objective statements.
But each of them may have a disastrous impact on your potential employment. Here is a list of don'ts:
Writing a kind of novel instead of a statement. Consider it to stay within 3-5 lines without exceeding.
Mentioning anything beyond your professional background. Make your firefighter resume template free of unnecessary details, such as employment gaps or career shifts.
Mentioning commonplace skills. Save the precious space for your most unique and relevant role skill sets.
Referring to overused words and generic language. Recruiters need the candidates with hard numbers instead of a host of "highly-skilled multitaskers" and "hard-working team players with various responsibilities."

Firefighter Resume Summary Samples
To communicate your relevant work experience and achievements, look at the summary statements below:
Instead of:
"Highly-skilled and experienced firefighter possessing 7 years of experience handling various duties and responsibilities at the Alhambra Fire Department. Have strong leadership skills and knowledge of pump operation as required in the operation and maintenance of firefighting and emergency response equipment and apparatus."
Consider:
"Safety focused Fire Fighting professional secures a managerial position at the Streetsboro Fire Department, eager to contribute 7+ years of professional experience and extensive knowledge of departmental policies and instructional materials to the improvement of the community. Have prevented 3 fires and eliminated 10 fire cases with a 100% success rate."
Firefighter Resume Objective Samples
The objective samples provided below will assist you in creating an effective objective statement for your firefighter resume if you aren't experienced yet:
Instead of:
"Result-oriented graduate of a Massachusetts Firefighting Academy (MFA), physically and mentally strong, striving to save lives and help people, able to work under stress and make sound decisions effectively. Possess thorough knowledge of pump operation. Have a valid and 100%-clean driver's license. Looking to grow professionally and develop somewhere within Ohio communities."
Consider:
"Dedicated, a public-safety-oriented individual with commitment to serve the community searching for an entry-level firefighter position at the Chandler fire department that will benefit from problem sensitivity, manual dexterity, and the ability to lift up to 70 pounds of firefighting equipment in assessing dangerous situations. Helped with managing supplies as a volunteer at a local fire department and reduced supply costs by 15% by finding more promising vendors."
Firefighter Job Description for Resume
Your responsibilities may include not only fires but also chemical spills, natural disasters, or car accidents mitigation activities.
You should carefully study the opening and mention the keywords from a job posting.
For instance, for a wildland firefighter resume, showing past work in the forestry, or jobs in bioscience can provide you with a greater boost.
But usually employers include standard duties and responsibilities in a job posting as follows:
Using and maintaining equipment;
Inspecting compliance with fire safety;
Providing cleanup services;
Performing practice drills;
Rescuing members of the public from dangerous conditions;
Cooperating with ambulance and police;
Promoting fire safety through training, activities, and communication;
Providing law enforcement.
Firefighter Resume Skills & Abilities
Alleging you are a skilled professional won't make your candidacy a good case for an immediate job offer.
Your expertise, knowledge, and skills can better illustrate the ability to respond to emergencies.
If put in the right place, the latter will serve to your benefit:
Summary/Objective: 1-2 top skills to drive attention immediately;
Experience/Education section: several skills to indicate professional achievements;
Skills section: a professional skillset to demonstrate relevant competencies.
How to Choose the Relevant Skills for Firefighter Resume
Here are the tips on how to choose the right firefighter resume skills:
Check the firefighter job description resume and match your qualifications to what a hirer seeks in candidates.
Use targeted keywords to bypass the applicant tracking system.
Be sure to mention physical strength, judgment, medical and safety management skills.
Combine training-based skills with personality-focused ones for the best impression.
If you doubt what to include in your resume skills section, ask for help from certified federal resume writers.
Firefighter Essential Hard & Soft Skills Template
Find below a list of some of the most sought-after skills to choose the most relevant and mix them for different sections of your resume:
Hard Skills:
CPR
Fire Safety
Management
HazMat
Operations
Vehicle maintenance
Supplies ordering
Pump operation
Electrical work
Sprinkler specialist
Light carpentry
Swiftwater rescue
Mechanical skills
Custodial skills
Soft Skills:
Physically fit
Strong work ethic
Honesty
Careful listening
Teamwork
Trustworthiness
Interpersonal skills
Problem-solving
Communication
Leadership
Working Under Pressure
Adaptability
Attention to Detail
Visualization
Tips on Firefighter Resume Format
In terms of applying for a job where a single mistake kills, a firefighter's resume format does matter.
You may be the real deal for a company but if the resume looks chaotic and fails to catch the eye, it will get into a waste-paper basket with your employment chances.
Follow these essential tips to create a flawless resumes for firefighters.
Layout for Professional Presentation
If you are switching to firefighting from another career, it's better to highlight transferable achievements with the combination resume layout, leaving the details for a firefighter federal cover letter. For all other cases opt for a trusted reverse-chronological layout.
Efective Structure of Firefighter Resume
Start with an attractive header right at the top of the page with your name and contact information.
Write clear resume sections for Heading, Summary, Experience, Education & Credentials, and Skills.
You can use the Tech Stack section instead of Skills to highlight qualifications or add extra sections to stand out from the crowd.
Best Size for Firefighter Resume Template
Stick to one page when writing your resume for firefighters' jobs.
It works perfectly, but only for corporate and private-sector where recruiters used to look at documents in a stack.
Going with a solid two-page federal firefighter resume allows landing a job in a municipal fire department faster.
Formatting Ideas to Increase Readability
White space, clear headings, and bullet points for listing items help keep your accomplishments visual.
To increase the organization and readability of your writing, use one-inch margins, opt for a resume font like 11–14pt Cambria or Arial, and align the text flush left.
File Extension for Firefighter Resume
Word format often spoils the structure of documents as soon as you send them. That is why PDF is considered the best file extension for saving resumes, as they stay looking sharp on different screens.
Check the job posting to ensure PDF isn't a code violation.
Firefighter Resume Sample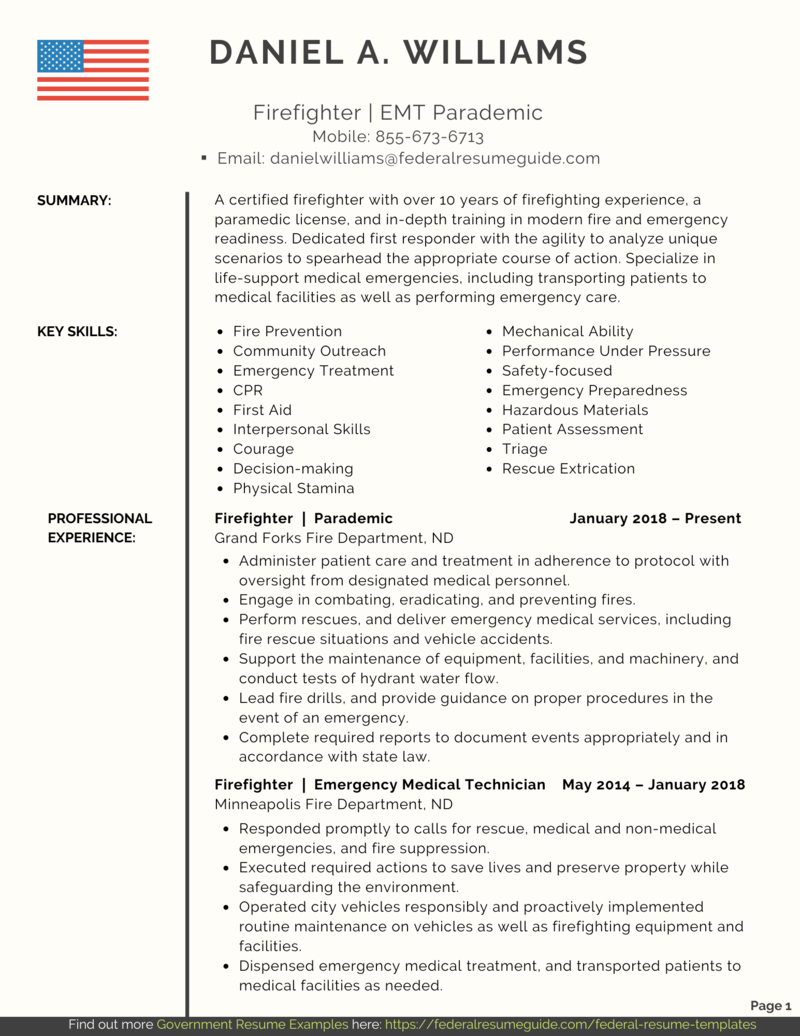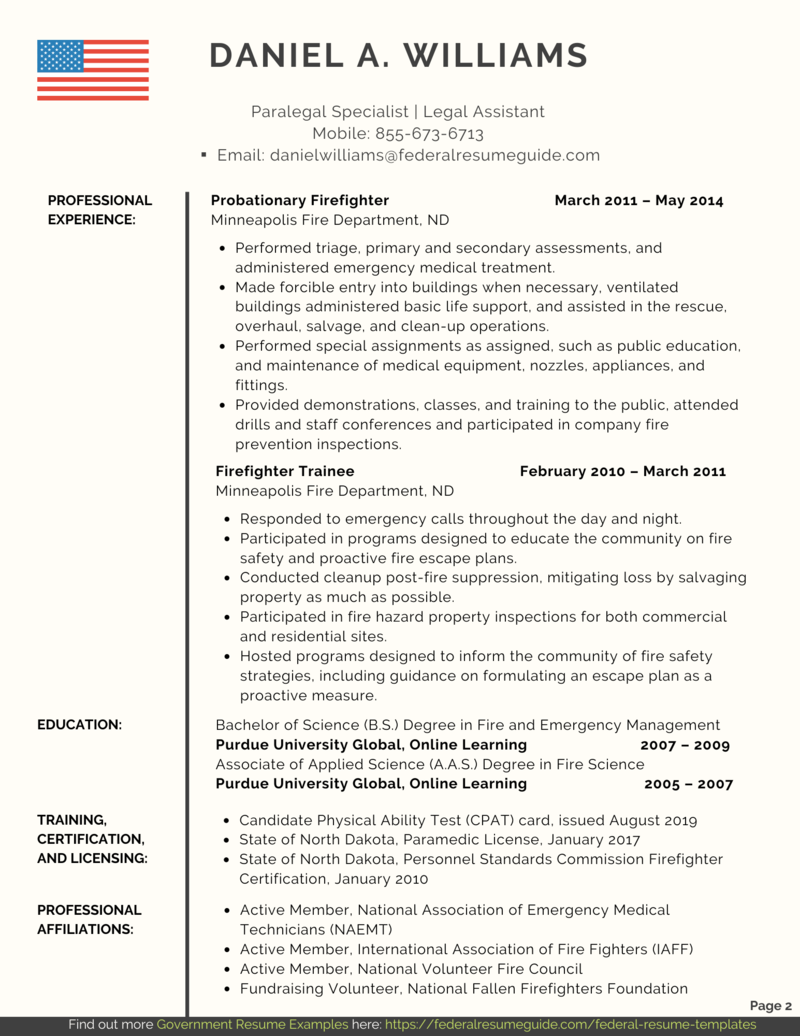 Related Articles:

Jim Madson

Jim is an executive resume writer who stays abreast of the newest trends in the employment industry. He develops high-performance federal resumes to build a successful career.