Last Updated on 12/12/2019
The USAJOBS website is the official channel through which to submit your application for federal jobs. The site lists nearly all available federal vacancies, including:
contract;
seasonal;
temporary and permanent position announcements.
You can use filters to search vacancies by:
job title;
job type;
position location;
hiring agency;
salary grade;
work schedule.
You can also use the advanced function to exclude options that you do not wish to consider. To get the most out of the USAJOBS website there are some steps you should follow when searching and applying for available positions.
1. Creating a USAJOBS Account
The first step in the federal job application process is to create a USAJOBS account.
Begin by entering the email address that you intend for USAJOBS access.
Create a password on login.gov to access multiple government websites with the same email and password.
Once you set up "my usajobs gov account login", you'll have access to the account dashboard that provides options for conducting your job searches and submitting applications.
2. Developing a USAJOBS Profile
It is important to create a complete profile and to answer all questions because the information that you enter on your profile will be forwarded with every application you submit. Having a complete profile will ensure that your application is evaluated accurately and can minimize processing delays.
In addition to completing the basic profile, you will need to answer questions about previous military service and work experience with federal agencies. You will have the opportunity to specify your work preferences, including locations where you wish to work, whether you want to travel in connection with work and the type of employment you are looking for.
One of the pages in the applicant profile section requests information about your gender, ethnicity and race. This data is used for government reporting and its completion is optional. If you prefer not to answer these questions, check the box at the bottom of the page to decline participation.
The last page of the user information section is the account management area where you can add security questions, change your password and set up job alerts for future vacancies. When you have verified the accuracy of all information and are satisfied with its completeness, click "Save" and continue.
3. Creating a Resume in USAJOBS
Your resume should provide evidence of your qualifications for the job to which you are applying. Duties performed should be clearly described and relevant to the job announcement. Be honest and verify that your resume accurately reflects your experience. If you are not certain what your job title was or cannot remember the complete title, use a generic title such as "Assistant" or "Instructor" and then clearly describe your job duties for that position. Always check grammar and spelling and save your work each time you create a job experience entry.
Add your resume to your usa jobs account by using the Resume Builder on the website. This tool allows you to save up to five resumes at any given time and you can specify which resume you wish to use with each application you submit. Follow a few steps to create your USAJOBS resume:
Experience → List all relevant professional experience to increase your chances of being selected to interview for positions that you are qualified for. Specify whether the job was part-time or full-time because this will help the hiring agency to determine how much relevant experience you have.


Education → You will next be directed to input your formal education. Remember to list all relevant education and only list course work and degrees that were obtained from accredited programs.


Languages → List any languages in which you are able to conduct business, professional organizations of which you are a member, publications on which your name appears and any job-related training or qualifications that have not already been mentioned.


References → You will need to provide at least two professional references and one personal contact. Be sure to choose references who can speak about your qualifications objectively but in a positive manner. A personal reference should be someone who can provide relevant examples that illustrate your character, rather than simply a person who will say nice things about you. Such references will count far less than references who can clearly convey your potential value to the hiring agency.
Add any professional licenses, job-related training and course work if relevant to the position announcement.
To ensure that you continue to receive relevant job announcements, keep your contact information updated and add relevant experience and credentials as you acquire these. Do not forget to update uploaded documents and supplementary questions and to note changes to your work preferences and availability status.
4. A Few Words about Preferences in Federal Employment
Federal agencies operate under a mandate to promote job equity and reduce job disparities. Under this mandate, persons who are members of specific groups can be granted preference in hiring based on their membership within that group. Gaining a preference does not mean that you will receive a job offer even if you do not meet the position requirements. What it does mean is that if you fall into one of the protected categories and there is another applicant who does not, your application will be considered preferentially as long as you meet all position requirements.
The federal government awards preferences based on military service, disability status and membership within specific ethnic groups, but not persons who are members of these groups are eligible to receive preference. The position announcement and the USAJOBS website provide detailed information about preferences and exclusions.
Military Veterans If you've been in the military, you have a chance to apply for a federal government job. This does not mean that you'll get the desired job for sure, but it gives a certain advantage over other experts. To qualify, a veteran must provide documentation of a general or honorable discharge.
5. Before You Go "Live"
You will have a chance to review your resume before you activate it. The following tips will help you to organize your resume and profile information for submission.
Be sure to check spelling and grammar, confirm the accuracy and completeness of all information and verify all contact information for your references.
Make your resume searchable if you want hiring managers and program directors to be able to find your resume when they search for qualified applicants.
You might want to upload essential documents, such as copies of professional licenses, ahead of time. Since not all positions require the same forms, you should only upload documents that are not likely to change over time and that you will need to submit with each application.
Check your profile and uploaded documents for completeness and accuracy. When you are satisfied that you have entered all the necessary information, click to submit and continue.
Upload up to 5 resumes towards a particular position and increase the number of notices. Hiring managers can search your profile and resume to compare your qualification with the open vacancies.
Pay special attention:

You need to have both types of resumes in the Document section: uploaded resumes and resumes made by USAJOBS.

Depending on the hiring agency, the recruiter will define which one to accept.

Click the Apply button to complete your application.
USAJOBS will display all resumes and documents automatically. If the agency accepts only uploaded resumes, then resumes made by USAJOBS will not be included into your application. Read carefully the job announcement to clarify which resume format and documents required by the hiring agency.
Conducting a Job Search on USAJOBS
Job titles for federal jobs do not always correspond to civilian titles. The USAJOBS Office of Personnel Management (OPM) uses a job classification system to create federal job position announcements. You can access the OPM job classification manual from the USAJOBS website. This tool verifies which job titles best fit your qualifications.
When you are ready to select jobs to apply to, review the position description and closing date of the announcement. Note any time zone differences to ensure that you submit your application before the closing date because any applications that are submitted late will not receive further consideration.
Be aware that federal agencies generally make no exceptions with respect to applicants meeting the stated position requirements. Unless explicitly stated in the position announcement, substitutions and comparable credentials will not be accepted as proof of qualification. If your application does not show evidence of meeting all requirements, it will not receive further consideration.
Sample Job Search for Program Analyst Position
To illustrate how the USAJOBS website works, this section will walk you through a mock search and application for a Program Analyst position.

A Begin your search by choosing filters to narrow results only to the most relevant announcements. The Program Analyst title is nearly ubiquitous in federal agencies so choosing several filters will speed up your search and eliminate any vacancies that are not pertinent to you.
B In this case, you would probably filter by location and type of work desired. You might also want to filter by desired work schedule and willingness to travel in connection with work. Setting these filters should narrow the results to a number that you can actually review in a timely manner and will save you the frustration of having to look through numerous pages of irrelevant results.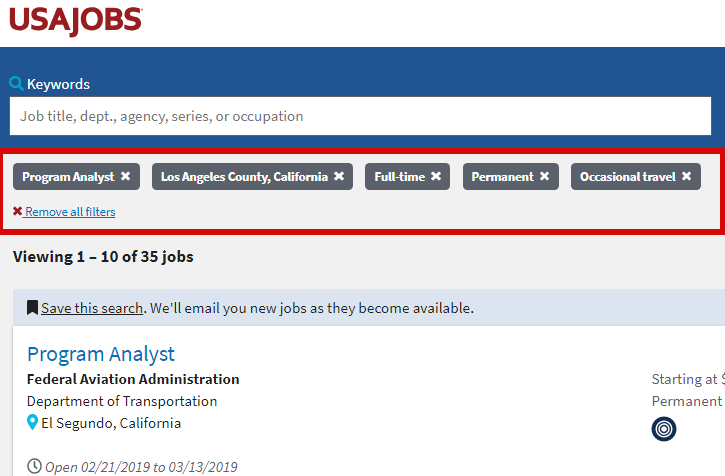 C Having narrowed down your results to the most viable options, you are now ready to review the position announcement and determine the degree of match to your credentials. Review the position announcement to confirm that you meet the minimum qualifications and verify if any additional documents need to be uploaded.
D Since we are just doing a mock job search we will assume that your search has led to the successful submission of an application. The status field next to this application should now have changed to "Received", indicating that the hiring agency has your completed documents.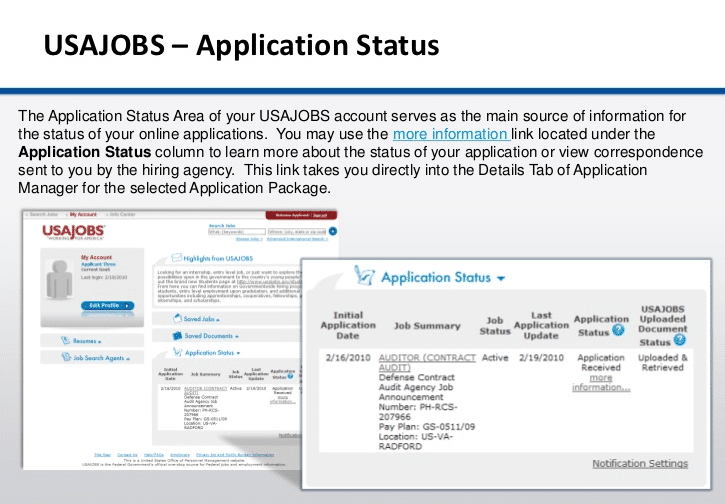 E Since this particular search actually yielded relevant vacancies, you would likely want to save the search as a Job Search Agent that will notify you of similar job announcements in the future. USAJOBS lets you save up to ten of Job Search Agents that will be sent directly to your email address each time new jobs become available, ensuring that you receive all relevant position announcements in a timely manner.
Submitting Your Application On USAJOBS
Having a complete profile, comprehensive resume and documents that have been previously uploaded may be sufficient to apply for some vacancies. In this case, all you would need to do is click the "Submit" button and wait for confirmation of receipt. Other jobs might require that you submit additional documents or answer a set of questions that are specific to that particular position announcement. If so, the same rules apply when submitting your application.
Ensure that you have uploaded all additional required documents.
Confirm that you meet all requirements as stated in the

application in USAJOBS

.
Check the spelling and grammar of all documents and all profile fields.
Review your application for completeness and accuracy.
Create a cover letter if appropriate and upload it to your saved documents to submit with the application.
When you are certain that all information is complete and accurate, click to submit your application.
How to Delete USAJOBS Account
In order to delete USAJOBS – My account area, Sign in.
Click Username & Password displayed at the bottom of the left-hand column.
Scroll to the bottom of the page and click the Delete Account
After click the Delete Account button in the pop-up box.
Check your email box with notification that account has been deleted.
Understanding the Federal Job Application Review Process and Job Offer
The review process will result in your application being placed in one of several categories, including minimally qualified, qualified, highly qualified and best qualified. Based on your category, your application will be either referred or not referred. If you are not referred, your application will be eliminated from the pool of eligible applicants for this particular job announcement. If the status on your application has changed to "Referred", this means that your application has been forwarded to the hiring manager for further consideration.
How long does the federal hiring process take?
It can vary from a

1 month

to

6 months

from application to start date. If you don't get referred within 20-30 days, contact the HR specialists listed on the announcements.

Even if have not been referred, keep applying to jobs.

And if you get referred, but not selected for an interview, call the hiring manager and clarify the reasons.
Interviewing for the Job
Prepare ahead for the possibility that you might be contacted to continue the hiring process. When you apply for a job, print the vacancy announcement. In the event that you contacted for an interview, having access to the announcement will enable you to ask relevant questions and to listen for important job information that conveyed during the meeting.
Interviews can occur in person, on video or by phone. You might be interviewed by a panel or by a hiring manager. All interviews are structured and have the same format for all applicants. There is usually only one round of interviews but more than one interview also be conducted.
Getting and Finalizing a Job Offer
If the hiring official selects you as the best-qualified candidate, he or she will refer you to Human Resources to initiate a formal offer. The Human Resources office will complete the required new hire paperwork and initiate the background check and security clearance process. The job offer is final when all background check items and security clearances are satisfactorily completed.
---
Still unsure about how to use USAJOBS website? Read our guide articles:
Understand Occupational Questionnaire at USAJOBs
---
Conclusion: A Few Tips before We End
Working for the federal government can be rewarding and enjoyable and provides an opportunity to contribute to the progress of your nation. The resources that are available on the USAJOBS website are intended to help you succeed in your quest for federal employment. Should you need technical support while completing your application, you can contact the USAJOBS help desk directly through the contact link on the website.
You might occasionally encounter a scammer who requests that you pay to apply for a federal job or who claims that they can help you to secure federal employment.
Remember that there is never a fee to apply for work with the government and that USAJOBS is the official application submission website that lists nearly all federal vacancies.
Patience, persistence, and attention to detail are crucial and will pay solid dividends in the end. Following these guidelines will make the application submission process smoother and will keep you in the applicant pool long enough for you to get your dream job with the federal agency of your choice.

Jim Madson

Jim is an executive resume writer who stays abreast of the newest trends in the employment industry. He develops high-performance federal resumes to build a successful career.