Last Updated on 11/26/2020
Cover letters are crucial when applying for a new job, especially in the military industry. This is your main argument and statement that you are better than other applicants and worthy of this vacancy. Therefore, in a cover letter, every word and every comma are essential.
But if in a motivation business letter, a candidate can show his/her creativity, the military document must balance the seriousness of the position — be clear, understandable, and logically constructed.
In the army sphere, without a good cover letter, your resume will remain unread. When a well-written document will attach the attraction of the military recruiter or official employer and most likely provide you with an interview invitation.
Cover Letter for Military Position
The military cover letter should have a clear structure and official format. It has to be short enough, but informative and must disclose the central resume information (but do not repeat it). Here is a perfect structure for military cover letter examples:
Your contact information (name, home address, email address, and phone number).
Date.
Employer's information (recruiter name, company/agency name, address).
Introduction paragraph. Describe why you are writing and what position you want to take. Why do you want to work in this organization, and what do you like about it. Try to attract the attention of the reader from the first 2-3 sentences.
Body. You should formulate an association between your background and the company's requirements. Mention directly related military experience and/or education, summarize them. Do not forget to notify the relevant skills (better hard ones) or professional accomplishments. Write additional information about the agency or about respected employees who work there (if you have).
Concluding paragraph. Reiterate your interest in this military job position. State that you wait to discuss your background in the interview session, mention that you are available to start as soon as possible. Thank the reader for his/her consideration.
For some reason, many believe that military cover letters should be longer than others. But on the contrary, such a document should be short and precise, because the main thing in the military industry is not words, but actions. Thus, the army cover letter should reflect your ability to state your thoughts, correctly describe your goals and motivation.
Some Advice to Get Noticed with Military Cover Letter
Before sending your cover letter to military recruiters or directly to the employer, read these tips and several times proofread your paper.
Research the company you are applying to. To give a definite answer about why you want to work in this agency and this position, you need to have more detailed information.
If you have military connections and/or recommendations, write about them. Ask your former commander to write you a letter of recommendation or permission to indicate his/her name with positive feedback. It will 100% increase your chances.
No military jargon. The recruiter who will read your letter may not be related to the military industry. It means you have to explain your army skills in plain language.
Address the reader by name. If you do not know who will read your resume and cover letter, try to find out. Show your ability to seek information and perseverance.
Read and be inspired by our military cover letter example. You can use a similar structure for your writing, but do not forget to add individual agency information and position details.
Military Cover Letter Example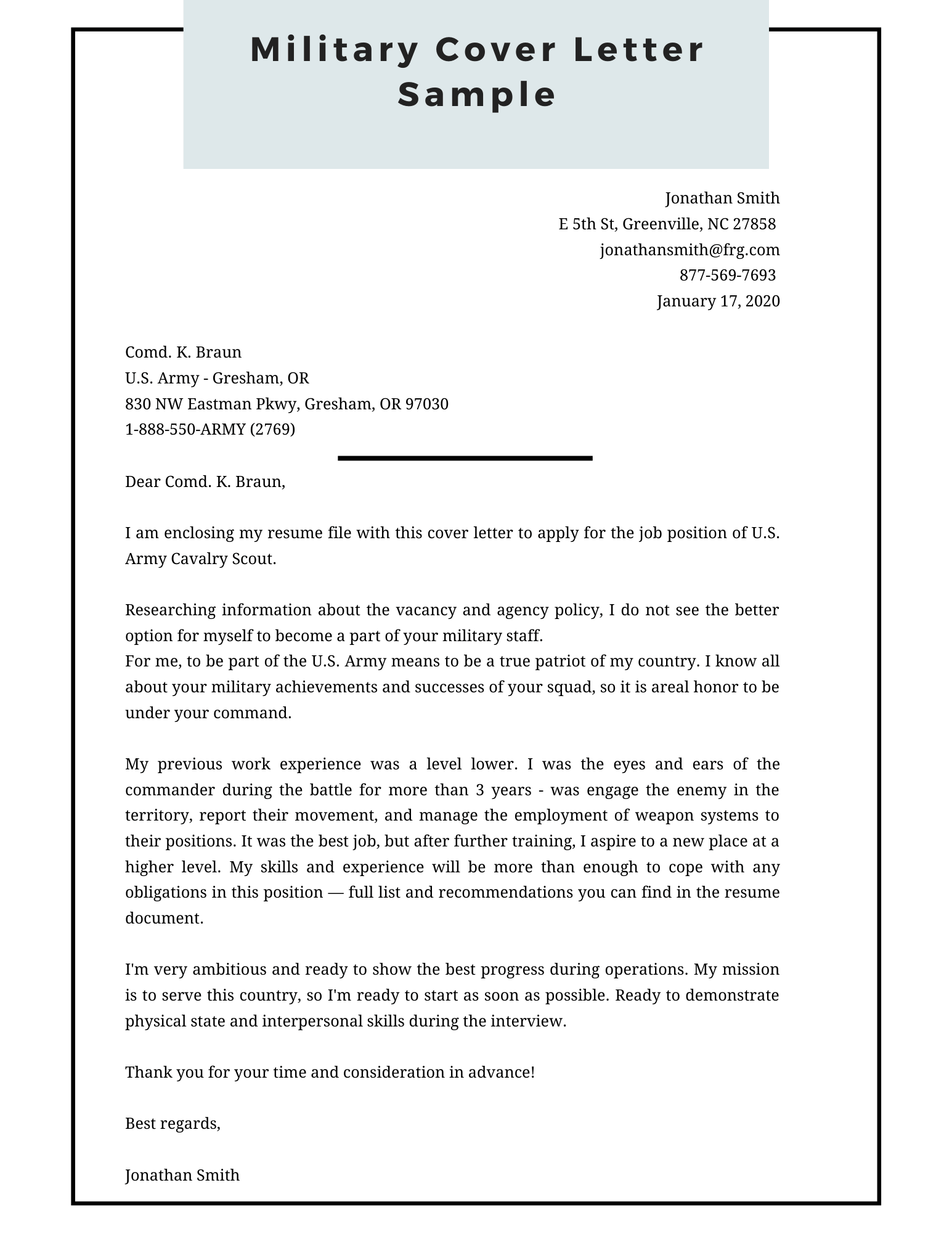 Check Out the Related Articles:

Linda R. Bedford

Linda is a Professional Resume Writer and Military to Civilian Transition Specialist. Her expertise range across a large spectrum of industries. She loves coaching with people and helps job-seekers in transitioning to their next and best chapter.