Last Updated on 12/12/2019
By their nature, the military and civilian worlds operate in separate spheres. This complicates the process of writing your resume when you want to transition from military to civilian employment. Your descriptions of military duties, skills, and accomplishments will come across as a foreign language to civilian job recruiters. Fortunately, you can overcome this with specific strategies to translate military skills to civilian resume.
Despite the challenges of shifting into the civilian workforce, you have reason to be encouraged. According to the Bureau of Labor Statistics, veterans only had an unemployment rate of 4.3% in 2016. Nonveterans, by comparison, had an unemployment rate of 4.7% at the same time.
As a retired military person, you'll need to assemble some special information to write your resume.
Gather:
Verification of Military Experience and Training (VMET)
Fitness reports or evaluations
The VMET is a complete record of your military occupational specialties (MOS), training, and certifications. This transcript lays the foundation for the military to civilian resumes.
Your evaluations written by commanding officers contain your accomplishments along with specific measurements of your success. This feedback from your commanders can be extremely useful when describing your accomplishments.
How to Write a Resume from Military to Civilian
Writing your military career to civilian resume takes more effort than transferring text from the VMET to a resume builder. You need to strip military jargon and acronyms from your work experience.
Terms like SQDN, PCS, and UAV will likely mean nothing to civilians. Because writing a resume and translating military jargon for a civilian audience are both challenging tasks, it's best to break them up.
To begin, set aside worries about military terms and write a master military resume. Use the military terms that you're familiar with on this first draft.
Check Out Military to Civilian Resume Template
For the First Draft, focus on:
Placing your strongest skills and accomplishments at the forefront
Crafting a concise objective statement about your career goals
Choosing verbs that convey action, responsibility, and success
Including keywords that match up with the types of jobs that you want
For the Second Draft:
If possible, ask a nonmilitary person to read your first resume draft. The person could provide insights into which parts are the hardest to understand.
Look at that first draft yourself. Try to imagine that you have to explain it someone who knows nothing about military operations.
Circle or highlight your military titles, acronyms, equipment names, and duties to adjust the content of the resume military to civilian.
Most of these will need to be adjusted or rephrased to communicate the military experience to civilian resume effectively.
Read more How to Add Military Experience to a Resume
Translate Enlisted Military Titles
Enlisted service members have rank designations of E1 through E9. To make these labels meaningful for a civilian job recruiter, select generic terms like a team member or foreman.
Lower ranks E1 through E3 would translate into entry-level positions like technician or operator. The middle tiers of E4 to E6 would match with titles like an assistant manager or section leader. The top tiers of E7 to E9 correspond with roles like department manager or supervisor.
Instead of:
Commander
Warrant Officer
First Sergeant Manager
Platoon Sergeant
Personnel Specialist
Consider:
Senior Personnel and Program Manager
Senior Technician, Technical Advisor, Chief
Group Supervisor, Senior Advisor, Group
First Line Supervisor, Training Instructor
Administrative Clerk
It's fine to mention your rank, but you should expand on the description to clarify its meaning for others.
Commissioned officers and warrant officers have similar designations with the letters O and W. Include terms that represent the greater responsibilities of these positions like a general manager or district director.
Attract Recruiters with Your Civilian Summary
Let's consider a resume summary for a civilian job by the following example.
Rick Walker is a retired Quality Control Officer with 18 years of successful military aviation experience. Now he holds a position of a Operations Manager in one of the leading aviation company.
When it comes to showoff an impressive military history, Rick can choose the first option. But what are his chances of getting a civilian job? Will HRs' understand encrypted information with acronyms and abbreviations? Let's get deeper into the subject.
Military Resume Summary Example:
Quality Control Officer

Proven leader with extensive experience for providing National Guard and aviation units with proper implementation of Army aircraft and airworthiness. Responsible for maintaining and repairing both UH-60 and UH-1 aircraft. Lead financial planning, prepared options, and recommendations on aircraft combat systems. Conducted training and mentoring battalion level maintenance management techniques to aviation maintenance officers.
But what if Rick will translate his responsibilities into civilian-friendly terms?
Civilian Resume Summary Example:
Operations Manager

Dedicated supervisor with 18 years of experience in coordinating program activities for maintenance and repair work, useful in quality control checks. Responsible for the safe condition of over $32 million in aircraft and equipment. Reduced aircraft maintenance up to 34% due to implementation of cost-effective programs. Developed and implemented training programs; evaluated instruction and performance outcomes for employees.
As you can see several phrases, abbreviations and words substituted by general terms as aircraft and equipment instead of UH-60 and UH-1 aircraft, employees instead of soldiers.
Besides civilian resume summary include exact numbers, which make it more competitive and attractive for recruiters.

Adjust Acronyms and Military Terms
Writing out the full names represented by acronyms could improve comprehension in most cases. Replace words like soldiers or airmen with personnel. In all places, make an effort to put your jargon into simple terms using words familiar to most people.
Instead of:
Combat
Mission
Sensitive
Soldiers
Suspense Date
Consider:
Conflict, emergency situations, crisis
Function, tasks, obligations, priorities
Confidential
Personnel, individuals, staff
Deadline
You also need to interpret military jobs to civilian jobs for resume. It's helpful to include facts and figures, such as how many people you supervised or how many pieces of equipment that you maintained.
After editing your first draft, your second draft will have shifted the resume from military to civilian terms. This process of altering military resumes for civilian jobs prepares you to tailor the content for specific job applications.
Have a doubt on how to translate military skills to civilian? Choose the Best Military Resume Writing Service.
Job Description Keywords
The words used by an employer to describe an open position are vitally important. You need to incorporate these keywords into the top half of your resume.
Among Fortune 500 companies, 98% of them use software to scan resumes before forwarding them to actual recruiters. Analyze the terms in the job description and select those that fit with your skills. Change some of the terms on your resume if necessary to create keyword matches.
Do you still have hesitation on how to find a civilian career related to your military job?
Check out Military Skills Translator.
Just select your service (for example Air Force) and enter your MOS code (for example 11A4 – Airlift Pilot). Search for equivalent job titles and read a job description to match your experience.
Pick up a few keywords from the job description, and include into your ex-military resume.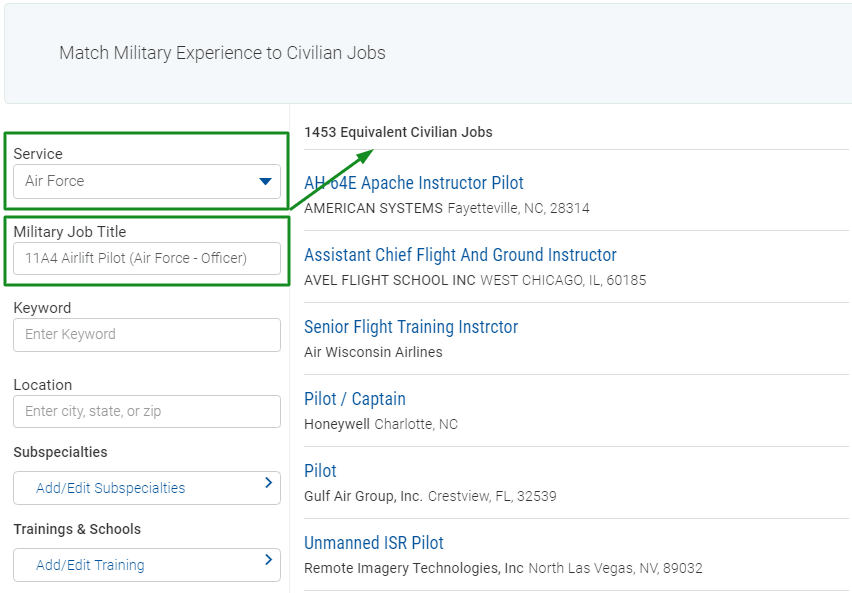 Enforce Your Civilian Resume with Cover Letter and Objective
Your resume should include a brief statement about your job objective after your contact information. As succinctly as possible, explain how you wish to apply your valuable military training to the civilian job. Explain how your experience will promote the employer's goals in the military to civilian resume objective.
Your letter offers a place where you can expand upon your objective and how it meets an employer's purpose. Draw upon the experience that you liked the most during your military career. Did you feel like you were thriving when collaborating with others? Did you contribute the most when operating heavy machinery?
Use these positive experiences to communicate your enthusiasm for a chance at civilian employment.

Linda R. Bedford

Linda is a Professional Resume Writer and Military to Civilian Transition Specialist. Her expertise range across a large spectrum of industries. She loves coaching with people and helps job-seekers in transitioning to their next and best chapter.