Last Updated on 11/26/2020
According to various statistics, one legal assistant vacancy receives an average of 15 – 20 active resumes – and most of the candidates are highly qualified specialists. But such a competition should not surprise you! After all, jurisprudence is still one of the most competitive professional occupations in the labor market.
How to compose the best paralegal resume? There are no official recommendations (or rules) for document formatting. So, all the existing instructions for a successfully created paper are worked out in practice. They base on the main principles of effective business writing and some psychological aspects.
Do you want to create a perfect paper? Read our recommendations and get inspired by the paralegal resume sample (presented at the end of the article).
Or choose the best Attorney Resume Writing Service.
Paralegal Resume Objectives
The paralegal resume objective should not be too short or too long. The ideal option is 2 to 3 sentences that maximize the essence.
First of all, you should demonstrate your professional knowledge:
understanding of federal / state correspondence;
knowledge of the legal system and laws;
organizational documentation;
basics of psychology and sociology.
But do not include a list of abilities and skills in your paralegal resume summary. It's enough to demonstrate it through your experience and accomplishments.
Check out the objective statement for paralegal resume: "Highly motivated, organized and hard-working paralegal with 6 years of litigation experience and a background in criminal defense."
This sentence ultimately represents your professional knowledge without extra skill lists. So, leave them for the paralegal resume skill section.
The top paralegal resume objective should convey your self-confidence and level of professionalism. In other words, the text should be concise, competent, and understandable. Take a look at paralegal resumes samples below the article.
Paralegal Job Description for Resume
Work experience is an excellent advantage for any job seeker. However, even if your work practice is too long and varied, you cannot just write a list of agency names. To get noticed, you should properly present the information to the HR, which means to draw up a detailed paralegal job description resume.
Indicate your area of responsibility, describe your daily tasks. This information will allow the employer to understand what set of functions you have done and could do in the future. Always try to give comprehensive and accurate information about your work activity.
Paralegal Duties for Resume
The legal assistant duties are diverse. For instance:
Drawing up informed conclusions;
Management and employee counseling;
Drafting disagreement protocols;
Documentary and technical support for the work of the department (lawyer);
Representation of interests of the agency (federal interests) in court;
Execution of instructions in all areas of activity (for the entry-level).
Despite the great variety, the types of everyday legal tasks at different agencies are similar. Specificity – the advantage of one candidate over others. Therefore, you should describe the paralegal duties resume more precisely to indicate the features of your job and critical skills. Check the example at our paralegal resume templates.
*You can specify your legal obligations in the "job description" or make it a separate section called "Duties."
Paralegal Skills for Resume
A professional paralegal should reduce the list of soft and hard skills to one or several specializations. For example, if you practice in the lawsuit, your skills for paralegal resume list might look this way:
procedural legislation knowledge;

debt calculation skills, fines, and penalties;

preparing documents to court;

ability to make a statement of claim;

interacting with bailiffs, preparing requests, assisting in procedural actions (arrest, sale of debtor's property, etc.).
Among the personal qualities (soft skills) of an ideal legal assistant, employers welcome:
strong communicative skills;

stress resistance;

analytical mind;

responsibility;

organization and flexibility;

research and investigative skills.
But do not make the "Skills" section too broad. It is enough to indicate 3 – 4 hard skills and no more than 5 soft skills. Try to make paralegal resume skills more focused and unique, add keywords from the vacancy.
Paralegal Resumes That Stand Out
The most important information is described above. However, if you want to make your paper as perfect as possible, here are some useful tips.
Use Less Specialized Terms
90% of legal workers use professional terminology when reporting their careers. However, it is better to simplify your work experience for people without in-depth knowledge of jurisprudence. Why? Because there is a high probability that the recruiter will not understand all the legal terms.
Describe Professional Accomplishments
To formulate achievements, you can ask yourself: what have I changed in the agency, what processes have been optimized? For example, you can write that you helped win 99% of the agency lawsuits. Mention it in a separate "Accomplishments" section or add to the objective statement for the paralegal resume.
Exclude Personal Information
Do not include too personal information: home address, marital status, nationality, age, etc. As a rule, this is not essential data for the employer (even in sample cover letter for paralegal resume).
Most recruiters claim: good resumes are similar, while unsuccessful ones are endlessly different from each other. That is why, if you want to create high-quality paper, you can use our paralegal resume examples as the main template.
Paralegal Resume Sample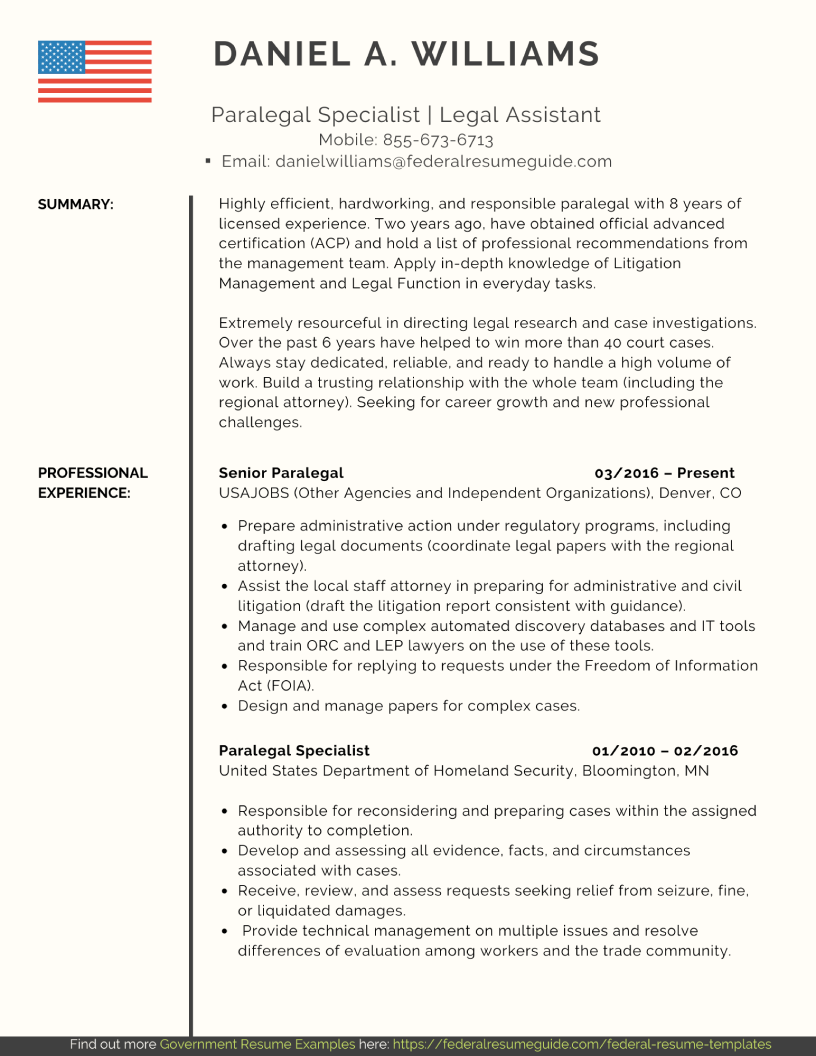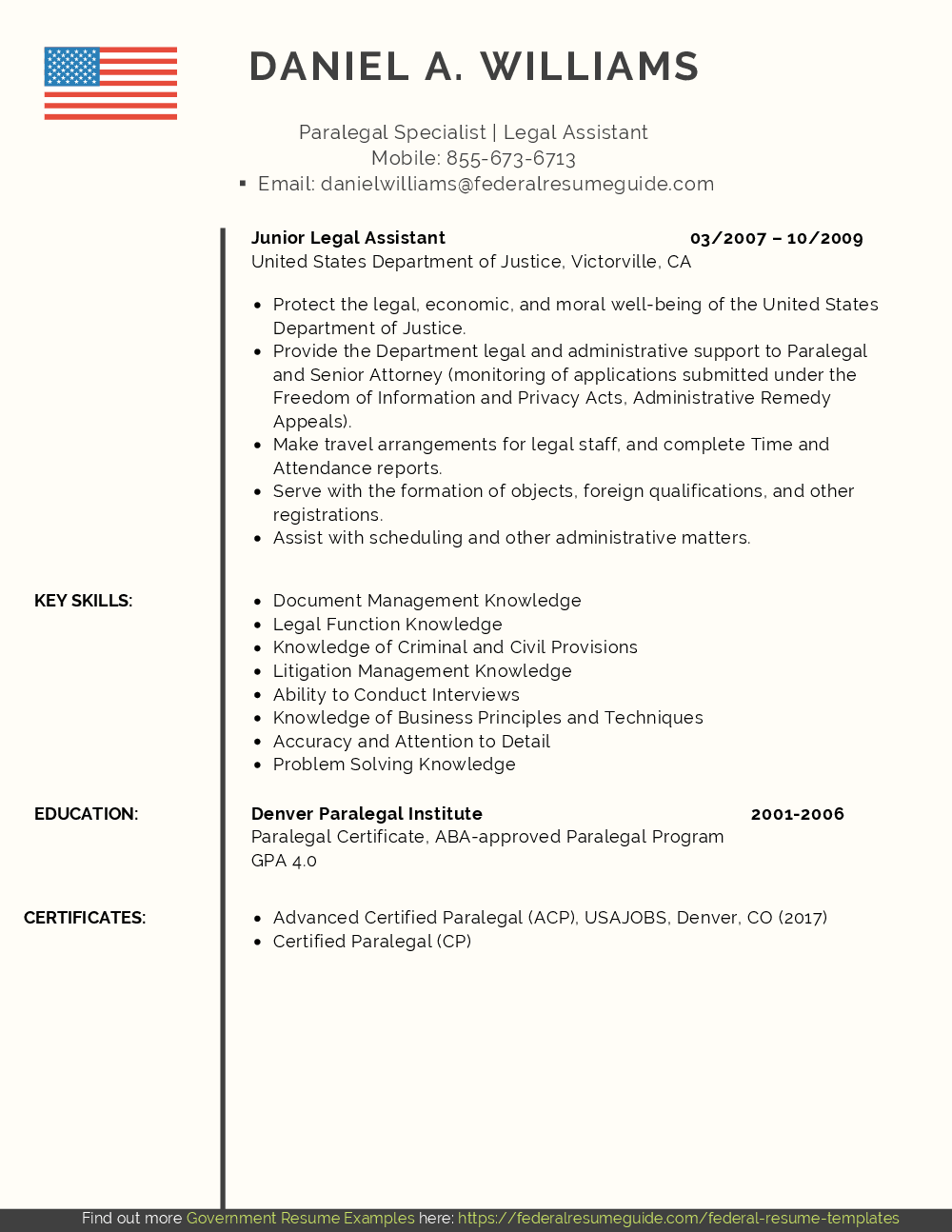 Check Out the Related Samples:

Richard Harter

Richard is a federal career expert and USAJOBS consultant providing professionals of all career levels – from C-suite to new graduates with targeted resumes, cover letters, and engaging LinkedIn Profiles.