Last Updated on 01/16/2023
If you have ever looked for a job, you probably heard phrases like "Do you have a resume?", "Send your resume," "We don't consider letters from candidates without a resume," and so on.
The most important here is that any employer doesn't want to see a "regular resume." Everyone desires to see the perfect biography that will fit all the requirements and company brand style.
But not all professionals are good writers. That is why now the internet has hundreds of online resume services. But how to choose a trusted service that can ideally fulfill such an essential task of your career?
Continue reading this TopResume free review and find out!
What is TopResume?
First of all, it is an online company that develops and compiles a resume, which helps professionals build a personal brand and get a dream job.
Top Resume team covers more than 65 job industries. Their experts are looking for an information balance that should be presented in the paper. In their opinion, properly selected and formatted data is the key to a successful resume. It is a kind of specific combination of math, analytics, and art.
Jeff Berger created a TopResume company in 2014, inspired by his mom. Now he takes the CEO position.
According to our analysis, this company quickly gained popularity among people seeking work. Also, some famous media several times mentioned this service or its experts in their articles.
Like for example, CNBC in their "5 resume tips" article, FOX Business, Business Insider, and others. Of course, this fact adds confidence to any service. However, trust, but verify! And we checked it on all fronts.
Top Resume Free Evaluation
Free resume evaluation is not a unique function, but rather, quite common among many similar services. We are convinced that such a feature is, first of all, advertising techniques.
For example, a potential client uploads his resume to the website, and after a while, receives a two sentences response – "Your resume has bad quality. Make an order on our website, we will write it better." However, checking this function on Top Resume website, we were genuinely surprised.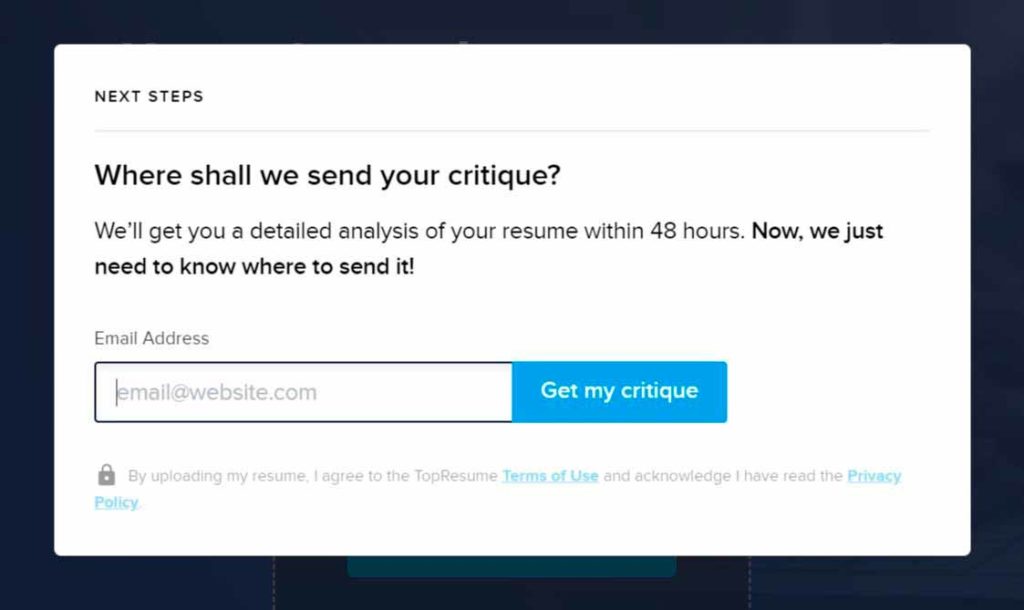 We chose a free top resume critique among products and uploaded the file. The website promised to send us the answer in 48 hours via email. We did this twice to test the objectivity and identity of criticism. And in both cases, we received utterly opposed and explicit criticism for the resume. One was written much better than the other, and that was obvious.
By concluding, you can be sure that this service doesn't try to attract more customers with such function, but builds trust and helps clients even if they don't order paid services.
Do you want to receive a free, professional resume evaluation from TopResume? Do it right now and get the free expert opinion already in 2 days!
Top Resume Services & Products
What products does the company provide in addition to topresume critique? Let's look at each of them.
Federal Resume Writing

(Price $199)
The main goal is to make a federal resume by all state requirements. Namely, use vocabulary, focusing on professional keywords. For example, use a political or legal lexicon to make the resume look appropriate to the job opening. Also, topresume experts provide Category Ranking optimization.
Military Transition Resume

(Price $199)
It is a unique product, among other similar military resume writing services. Such a resume is primarily relevant for Coast Guard, Army, Marine Corps, Air Force, Navy veterans who want to find a civilian job. We put a big plus to this company for this feature.
Academic CV Writing

(Price 219$)
It is a standard service of cover letter writing. The company believes that any cover letter should conquer the reader in 90 seconds. They are not only convinced of this but also promise to create one for you. Believe them or not? You decide.
LinkedIn Profile Makeover

(Price $125)
Making top resume writing services review, all our team agreed that it should be the most popular product on this website. How hard and stressful to create a LinkedIn profile? Probably we all hate to do it.
TopInverview Expert Coaching
It is a personal interview preparation with an interview coach. The trainer gives advice, teaches how to establish a mutual understanding with the interviewee, helps to become confident, works with your body language, and more. There are two options for communicating with a trainer: video calls and phone calls.
After filling out the form, you will receive a bill for services, and after paying for it, you can proceed to classes.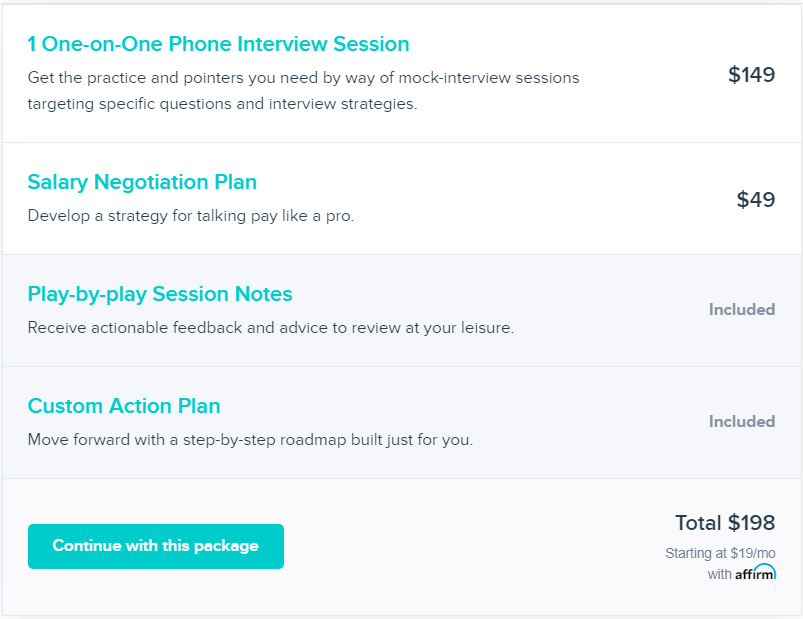 Resume Writing Package
On topresume.com, you can find 3 different packages. From the cheapest to the most experienced.
The first one, called Professional Growth, will cost $149 and consist of one high-quality resume.
The Career Evolution will be no less than $219 with a resume, cover letter, and 60-day interview guarantee.
And the most expensive is $349 for Executive Priority with resume, cover letter, same 60-day interview guarantee, top writer, and LinkedIn profile.
With any resume writing package, the online company does not give exact dates for the assignment. The only information suggests that the resume will be completed in no more than 2 weeks.
Topresume Discount
Top resume company doesn't have a direct discount program. The main discounts are to buy individual products but with the whole package. Like for example, if you want to buy a cover letter, it will cost not less than $219.
While the Career Evolution resume package has the same price for two products (cv and resume), this way, you save $149.
Another example, if to buy cover letter and LinkedIn profile, it will be about $368. It's more profitable to get Executive Priority, receive three instead of two products and save more than $150.
60-Day Guarantee
This company once again proves that they want to build friendly and trusting relationships with customers. If you hadn't an impressive response to your resume within 60 days, you could get a topresume coupon. This coupon allows you to get another free resume, within 180 days after receiving the first. However, this applies only to those customers who got the Career Evolution or Executive Priority package.
Top Resume Refund Policy
In general, there is no money-back instruction on the website. It gives the impression that the company doesn't practice a top resume refund policy. Moreover, the company suggests that customers don't need such a service, because they have a great team who will work to the end to present a perfect product.
Affirm Support
If a client applies for a resume, then he/she must be looking for work, and maybe he/she does not have enough funds. The top resume team understands this and therefore allows using the Affirm service. These two companies have recently begun their partnership and provide monthly payments for all customers. Thus, each client (with a good credit history) can provide payments from 3 to 12 months.
Top Resume Writers
The top resume company has a network of over 1500 professionals. They are adept recruiters, career trainers, writers, and specialized experts in various fields. According to the website, all employees of the company are USA citizens.

As a client of the top resume website, you couldn't choose your resume author. This company believes that knows better which editor is more suitable for you, by your profession and personal requirements. Thus, you wouldn't see your top resume writer until payment.
All writers use the old resume as an example and source of information about you. If you didn't have an old one, you would need to fill in the form. You have the opportunity to communicate with your writer, but only at certain times. Therefore, be patient.
Is Top Resume Legit?
Always, this question is one of the most valuable for potential customers. We all want to know that we use the legal service, and all our rights are protected. After all, no one wants to spend $150 for nothing, and on the internet, there are more and more scammers each year. Working on topresume.com reviews, we, first of all, check its legality.
The company website indicates that the business is registered in New York, under Talent Worldwide Inc., d/b/a TopResume. Just as we wrote at the beginning, we know the founder and CEO name – Jeff Berger. With this information, we checked the legality of this service in a few minutes:
visited NYS Department of State, Division of Corporations;

searched among Corporation and Business Entity Database;

found information about the company.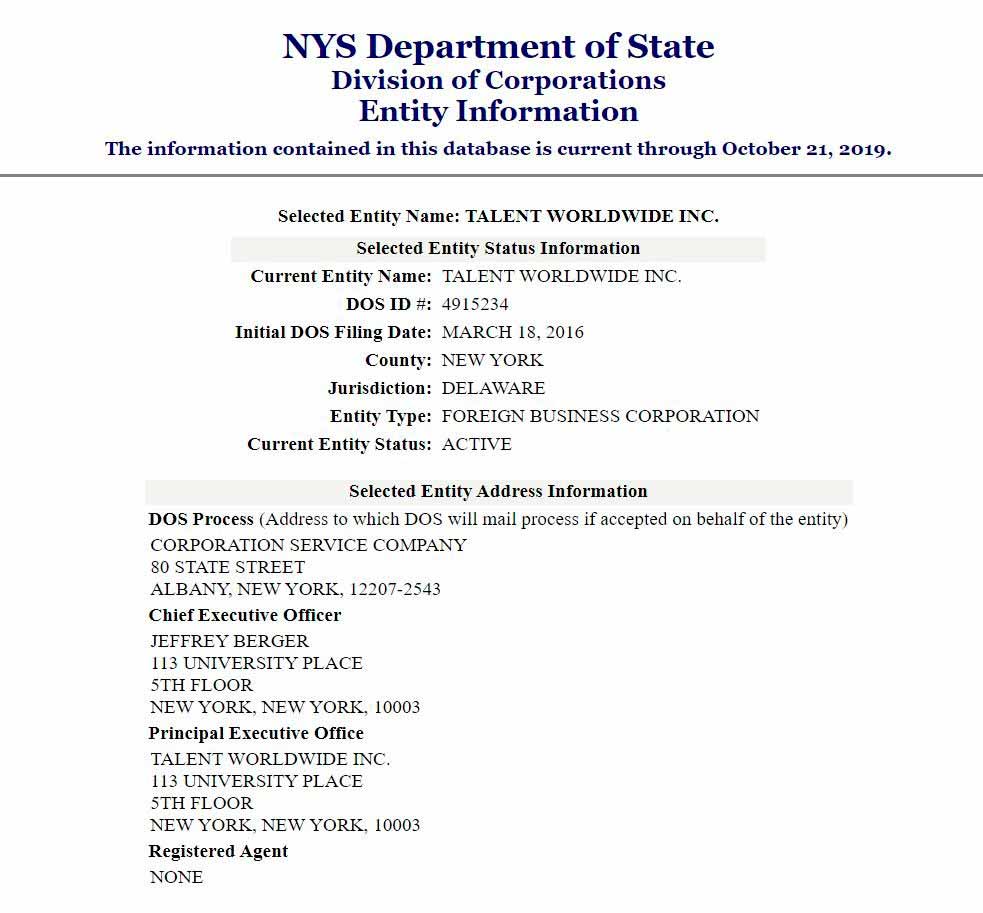 TopResume BBB
Never look at reviews directly on the company's website. It is pointless because 99,9% of all reviews will be 5 stars. So, first of all, we decided to check the Better Business Bureau website, as one of the most significant.
Searching Top Resume reviews BBB , we were a little surprised at such a low rating, with 3.5 out of 5 stars. Also, there are were a couple of topresume complaints from clients. They were happy with the service, and the writer but unhappy that it took little more than 2 weeks to create the perfect document.
Some reviews were from people who were not satisfied with the phrase, "All sales are final," but seemed weren't even clients.
Looking at other reviews of topresume, we visited TrustPilot . There were more than 5700 unique reviews, and the overall rating is more consistent with reality, almost 5 from 5 stars. 76% of customers rated Top Resume as Excellent, 12% as Good, and only 2% as Poor.
Analyzing written reviews, it seems that customers are fully satisfied with their resumes. Many clients write that they were able to find an excellent job in less than a month, others that the fitting cover letter helped them find a more suitable position, and gain a better salary.
We also found reviews of customers who didn't use paid services. They used the free resume evaluation function, get critics, and wrote a successful resume on these tips. As we expected, TrushPilot reviewers gave positive feedback about the LinkedIn profile makeover.
Is TopResume Worth It?
Before making a final top resume reviews conclusion, let's compare the advantages and disadvantages of this service.
Top Resume

Advantages
Top Resume Free Evaluation. It helps people who cannot afford to buy paid services. From personal experience, we appreciated the way this service works, and even thought to make a better paper (or place an order). Also, we were happy to see that people who left independent reviews were also satisfied with this free service.
Company's employees contribute to modern media and share their expert opinion with readers.
A large variety of products that you can order (from Federal Resume Writing Service to TopInverview Expert Coaching).
LinkedIn Profile Makeover as our personal favourite.
Opportunity to save up to $150 ordering a resume writing package.
Chance to get another free resume if the previous one didn't work well for two months.
Having a good credit history, you can pay for services by instalments. It is a significant advantage for people who have financial problems and seeking work.
The company employs not just writers, but narrow specialists, and recruiters with vast experience.
Company legality.
Convenient and attractive website interface.
A large number of unique positive reviews on independent review websites.
Top Resume

Disadvantages
There is no resume refund policy. In other words, "All sales are final."
You cannot choose an author who will rewrite a resume; the company will do it for you.
You can receive the finished product later than after 2 weeks. It happens due to a large number of clients, and more often, with rare professions.
Top Resume doesn't have 24/7 online support. You can only write them a letter via email.
TOP RESUME IS THE TOP!

I consider myself a seasoned (older) worker, re-entering the job market after some time away. I didn't want to end up at the bottom of a file or worse, a recycle bin when my resume was looked over, so I found Top Resume through AARP. They took my years of experience and turned it into something that I cannot wait to put online. They worked with me in a most efficient manner, asking all the right questions and putting into words exactly what I wanted to convey. I will continue to recommend them should I be asked.
Melissa
Regional Director
So, is TopResume worth it? Our unanimous opinion is "YES".
Despite a few disadvantages we listed above, this company deserves your trust. We checked and made sure that the company's policy is aimed at building long-term and productive relations with the client. Each team member strives to do his/her job well, ranging from a website designer to a resume writer. 

Richard Harter

Richard is a federal career expert and USAJOBS consultant providing professionals of all career levels – from C-suite to new graduates with targeted resumes, cover letters, and engaging LinkedIn Profiles.